Multi-Smak products as a source of vitamins
Our offer includes many products with the main ingredients of the highest quality vegetables such as: white and red cabbage, Chinese cabbage, carrots, leeks , celery, pepper, cucumber and onion.
Our products are characterized by the fact that they are very little processed, we produce salads and salads just like it is prepared at home: we choose the right fruits and vegetables , we peel, clean, wash, then rinse and cut.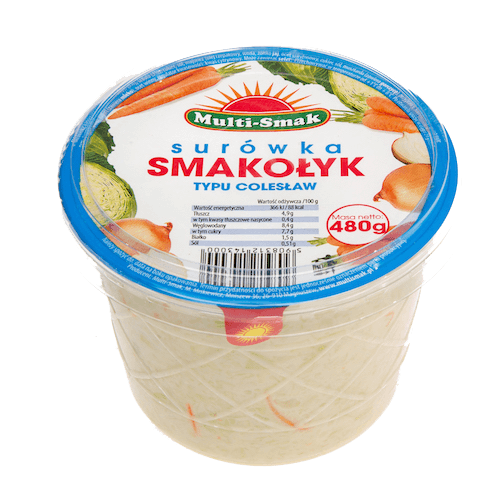 PERFECT LUNCH SNACK
The salads are arranged separately: vegetables, additives such as ham, cheese, tuna, grilled chicken and sauce so that the customer can mix them himself immediately before consumption. There is a fork in the lid of each package, thanks to which the selected salad can be eaten in any place.
The vegetables are steamed. We obtain safety and long shelf life by pasteurization, we do not use chemical preservatives. Boiled vegetables are a delicious addition to dinner, just heat it up, you can add your favorite additions: butter, spices.
We offer:
– beetroots: whole, grated: thick chips and pure 500g,
– carrot-corrugated slices 500g,
– carrot with peas 500g.